Expo 2020 Dubai - Case Study Video
Creative Direction, Motion Graphics and Animation Design

Events | Dubai, UAE


The Brief

Accenture had been working with Expo 2020 Dubai for almost 3 years, since 2017, shaping the visitor experience behind the scenes as well as through external-facing touchpoints. This story needed to be told through a 2-minute video highlighting:
1. Experience in international mega-scale projects 2. Visitor experience strategy 3. Digital Channels 4.Backend Systems 5.End-to-end Solutions and 6. One Accenture
The Big Idea
The theme throughout the film is based around convergence and interconnectivity. This is in reference to the Expo's vision of bringing the world together, as well as the power of One Accenture working to make the Expo vision a reality.

The Music & Lyrics
To communicate an interconnected ecosystem, we developed a visual mnemonic device inspired by the Expo 2020 logo which is a contemporary, minimalist representation rather than a traditional Arabic pattern. Because it was used for motion graphics, the visual device comprised of clusters of circles moving fluidly across space.

This illustrates the obvious parallel between Expo's one world and Accenture's approach of One Accenture.

We used the circles as a unifying element and in the final scene, the circles converged to form a 3-dimensional sphere.

This conveys the coming together of One Accenture and how Accenture provides depth and dimension to the visitor experience.
The visual mnemonic device is used to highlight subjects as well as to show how items are linked together. It was also used as a frame to hold imagery.
Collectively, the visual device exists in a 3D space. While the shapes are two dimensional, the camera moves through and within the shapes.


The Storyboard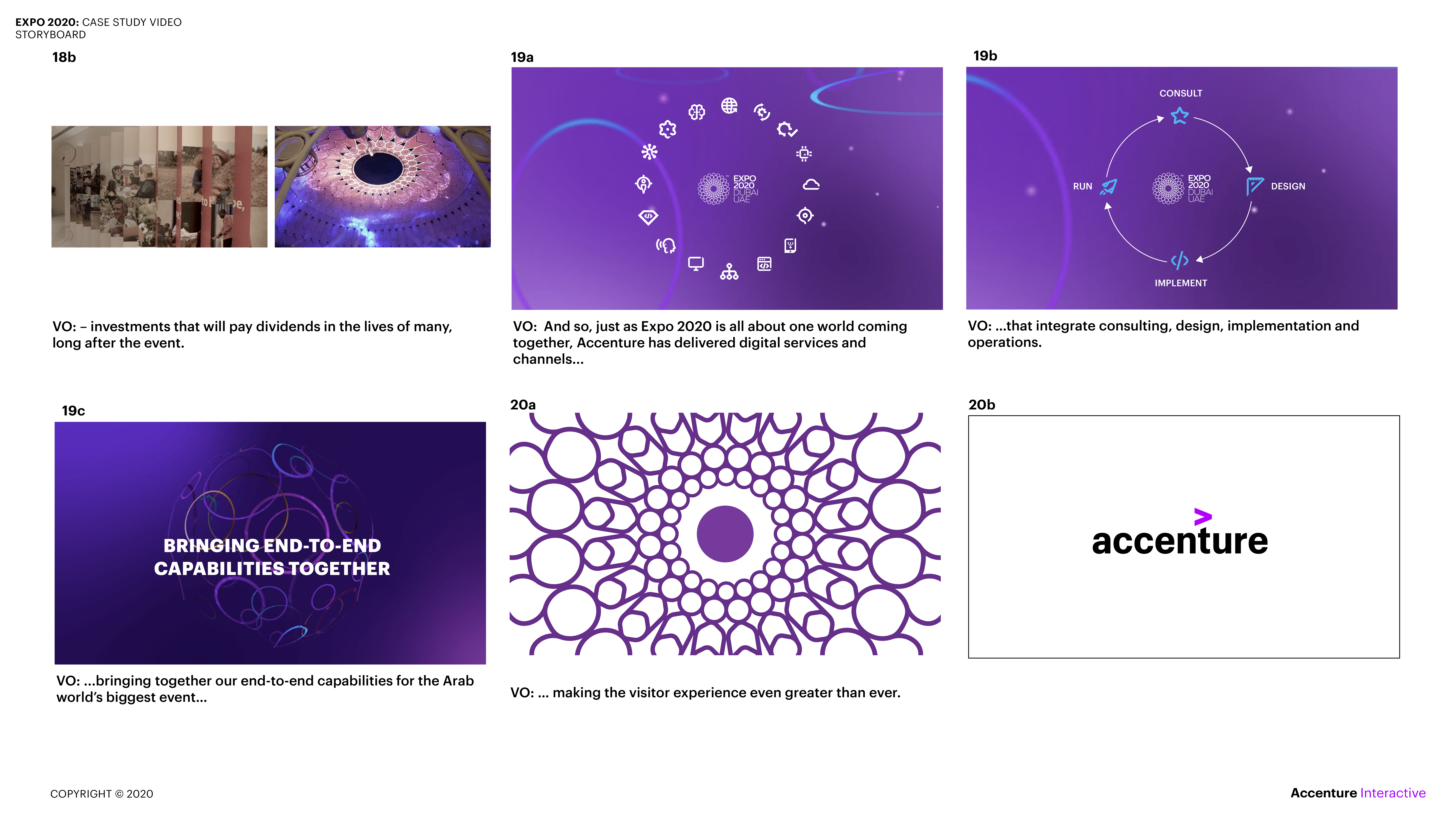 The End Result